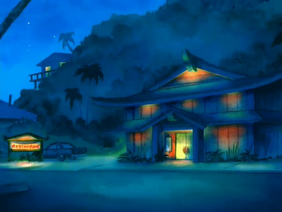 The Japanese Restaurant is a sushi restaurant seen in Lilo & Stitch: The Series.
Background
In "Sinker", it is also Experiment 602's (Sinker's) one true place after he was captured and rehabilitated by Lilo and Stitch. He cuts up fish fillets and vegetables inside the restaurant, using his large dorsal fin as a knife.
This sushi restaurant reappears in "Ploot" when Lilo tries to convince Sinker to help her defeat Experiment 505 (Ploot). However, he was unable to because he was really busy cutting up food for a large party while Hatha, the other chef who worked there, was sick.