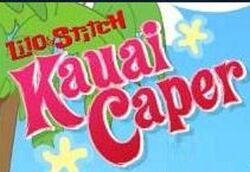 Kauai Caper is a Disney.com online game based on Lilo & Stitch.
Description
Help Stitch make things for Lilo's birthday party! Use clues to find items and then make exchanges with characters for things Stitch needs to make the gifts.
Experiments mentioned
Gallery
External Links
Ad blocker interference detected!
Wikia is a free-to-use site that makes money from advertising. We have a modified experience for viewers using ad blockers

Wikia is not accessible if you've made further modifications. Remove the custom ad blocker rule(s) and the page will load as expected.