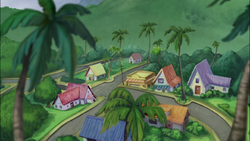 Kokaua Town is a fictional Hawaiian town on the island of Kauaʻi. It is the main setting of the Lilo & Stitch franchise prior to the Stitch! anime and Stitch & Ai. It serves as the hometown of the main human characters of the franchise, including Lilo and Nani, and becomes the adoptive hometown of Jumba, Pleakley, Stitch, and most of the experiments. (Some experiments, such as Mr. Stenchy and Spats, were given to those who do not live on the island, while others, such as Sparky, live on other parts of the island.) The town, which was not named until Lilo & Stitch: The Series, is based off of the real life census-designated place of Hanapepe located along the southern shore of the actual island.[1]
Places of Interest
References
↑ Gary A. Warner, "Lilo and Stitch are alive and well in Hanapepe, Hawaii", San Diego Union-Tribune, April 26, 2009.
Ad blocker interference detected!
Wikia is a free-to-use site that makes money from advertising. We have a modified experience for viewers using ad blockers

Wikia is not accessible if you've made further modifications. Remove the custom ad blocker rule(s) and the page will load as expected.