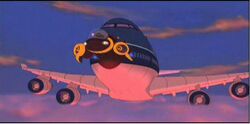 Lilo & Stitch originally had a climax in which Stitch hijacks a Tsunami Air Boeing 747 at the Lihue Airport in Honolulu to follow Gantu's ship. Since the September 11, 2001 attacks happened, the ending was rewritten in which Stitch uses Jumba's ship to follow Gantu's Ship at the mountains and volcanoes.
Ad blocker interference detected!
Wikia is a free-to-use site that makes money from advertising. We have a modified experience for viewers using ad blockers

Wikia is not accessible if you've made further modifications. Remove the custom ad blocker rule(s) and the page will load as expected.