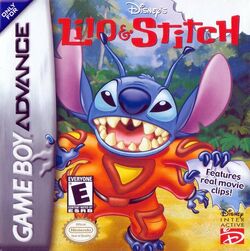 Disney's Lilo & Stitch is a 2002 action-platform video game for Game Boy Advance based on the animated feature of the same name.
Description
WARNING: Stitch is extremely dangerous. The result of an illegal genetic experiment by a mad scientist, Stitch appears to be harmless – small, furry, with six legs, huge ears and a row of back spines – but his very existence is an abomination to all that's decent in the galaxy. Last seen on the island of Hawaii in the company of a little named Lilo. Fugitive may be disguised as a family pet.
Reception
Lilo & Stitch received mostly positive reviews; review aggregator sites GameRankings and Metacritic gave the game a score of 75.58% (based on 12 reviews) and 80 out of 100 (based on 11 reviews), respectively.[1][2] The Game Boy Advance game is the highest-rated Lilo & Stitch-focused game in the franchise. The game was favorably compared to SNK's Metal Slug series for its tough yet satisfying side-scrolling gameplay.
The game received a TV series-focused sequel, Lilo & Stitch 2: Hämsterviel Havoc, in 2004 by a different developer.
Experiment mentioned
References
↑ "Disney's Lilo & Stitch for Game Boy Advance".. GameRankings. Retrieved on January 7, 2017
↑ "Disney's Lilo & Stitch for Game Boy Advance Reviews".. Metacritic. Retrieved on January 7, 2017
Ad blocker interference detected!
Wikia is a free-to-use site that makes money from advertising. We have a modified experience for viewers using ad blockers

Wikia is not accessible if you've made further modifications. Remove the custom ad blocker rule(s) and the page will load as expected.