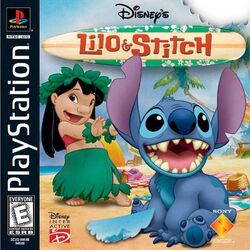 Disney's Lilo & Stitch is a 3D Platformer game, developed by Blitz Games and published by SCEA, which was released in 2002.
Plot
Based on the new Disney movie, Lilo & Stitch has the little Hawaiian hula girl and her pet dog'ish creature (actually an interstellar fugitive freakazoid critter wanted in several galaxies for causing total devastation with his manic ways) on an adventure together to learn the true meaning of "ohana" (the Hawaiian word for "family") together. To become truly "ohana" together, the two will have to bounce on floating platforms, collect a number of random widgets, and spin-attack baddies in a few dozen levels and boss battles. Aloha!
Experiment mentioned
Ad blocker interference detected!
Wikia is a free-to-use site that makes money from advertising. We have a modified experience for viewers using ad blockers

Wikia is not accessible if you've made further modifications. Remove the custom ad blocker rule(s) and the page will load as expected.