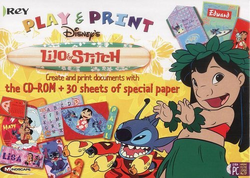 Lilo & Stitch Play & Print is a computer activity game based on Lilo & Stitch.
Plot
This up-to-the-minute Disney software package allows you to create, personalize and print documents using characters from the spectacular film Lilo & Stitch. Children can produce their own placemats, labels for drinking straws, wrapping paper, party bags, photo frames, mobiles, banners, see-through window posters, envelopes, postcards, invitations, playing cards, hats, crowns, calendars, timetables, badges, bookmarks and many more craft projects -- 30 in total.
Experiment mentioned
Gallery
Ad blocker interference detected!
Wikia is a free-to-use site that makes money from advertising. We have a modified experience for viewers using ad blockers

Wikia is not accessible if you've made further modifications. Remove the custom ad blocker rule(s) and the page will load as expected.