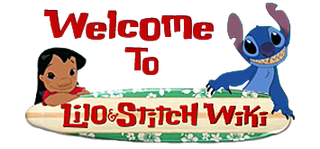 Welcome to the Lilo & Stitch Wiki!
the community driven Lilo & Stitch encyclopedia!
The Lilo & Stitch Wiki is an online encyclopedia that anyone can edit, based on the Lilo & Stitch and Stitch! series released by Walt Disney Animation Studios. This wiki strives to be a comprehensive reference for the Lilo & Stitch franchise including the feature films, animated shorts, video games and books. The wiki launched on May 14, 2011 and now has 958 articles. As you read about Lilo, Stitch and Yuna's adventures through the Hawaiian Island of Kauai and the Japanese Island of Okinawa, we hope this site functions as a fun and informative guide. You can register to keep track of your contributions.
Featured Article
---
Gantu, formerly Captain Gantu, is Lilo and Stitch's archenemy, serving as the main antagonistic anti-hero in the original film and later evolving into a true villain in the animated series, and eventually teaming with Lilo and Stitch on the hero side during Leroy & Stitch. An extremely large and muscular alien with a gruff, militant personality, Gantu resembles a bipedal whale with grey skin, sky blue eyes and elephant-like feet, wearing a black battle shirt and black pants and stands 20 feet tall. When he is seen by humans on Hawaii, he typically attempts to pass himself off as a Samoan, though Lilo once told Mertle he was a dogcatcher from Nairobi, which the other girl believed. Lilo calls him "Big Dummy" for most of the series. (Read more)
Did You Know?
---
Lilo & Stitch: The Series was originally going to be named Stitch! The Series. This decision was later changed, resulting in the mismatched title of its pilot, Stitch! The Movie. It was originally supposed to air in summer of 1998, but the show got cancelled before the episode aired.
In the episode "Finder", Lilo asks if Finder could find her Uncle Jimbo, a possible reference to Jimbo Kern from South Park.
In the episode "Babyfier", Lilo wants to see a movie called Sludge Mummies II: Attack of the Bones, which may be an allusion to Star Wars Episode II: Attack of the Clones.
Tokyopop has published three Lilo & Stitch Cine-manga books: The Search Begins (with the episodes "Poxy" and "Spooky"), Sparring and Charring ("Kixx" and "Cannonball"), and Contents Under Pressure ("Yin-Yang" and "Richter").
Unlike the movies, Lilo often wears a green dress with flowers instead of the same design but red in the first season, though she wears the red one more often in the second season.
Unlike other Disney Channel Original shows that premiere on Disney Channel then later come to ABC Kids, Lilo & Stitch premiered on ABC and then came to Disney Channel as a marathon on Columbus Day 2003.
Cannonball and Gigi use powers in Leroy & Stitch that they never use in the series: Cannonball being able to roll into a ball and Gigi being able to talk.
Lilo and Stitch
is a registered trademark of Walt Disney Animation Studios and The Walt Disney Company. All text, audio and images are the intellectual property of The Walt Disney Company. This site is not endorsed by or affiliated with The Walt Disney Company or their licencors. The operation of this site is believed to fall under the United States "fair use" copyright laws.
Ad blocker interference detected!
Wikia is a free-to-use site that makes money from advertising. We have a modified experience for viewers using ad blockers

Wikia is not accessible if you've made further modifications. Remove the custom ad blocker rule(s) and the page will load as expected.