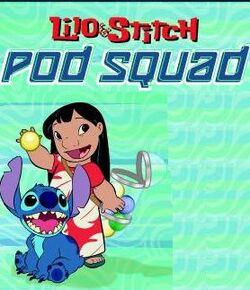 Pod Squad is a Disney.com online game based on Lilo & Stitch.
Description
In Pod Squad, playing as Lilo, you will run left and right catching falling experiment pods that are being dropped out of an overhead ship. Once you have filled up five experiments in the container, you must run to Stitch and give them to him, then continue catching them. As the levels go on, they are dropped faster. If an experiment becomes activated (falls in the water), it will escape, and the score will be deducted.
Experiments mentioned
Gallery
External Links
Ad blocker interference detected!
Wikia is a free-to-use site that makes money from advertising. We have a modified experience for viewers using ad blockers

Wikia is not accessible if you've made further modifications. Remove the custom ad blocker rule(s) and the page will load as expected.