Wizard Kelly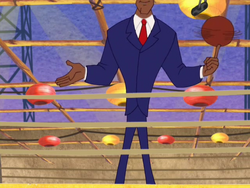 Likes
Wealth
People buying his stuff
Dislikes
People not buying his stuff
Wizard Kelly is a recurring antagonist from The Proud Family. He is Oscar Proud's successful and life-long rival. In the crossover episode "Spats", he comes to Kauai to promote and present a professional wrestling match held on the island. At the end of the episode, he is given Spats to help his wrestlers fight more convincingly.
Gallery
Ad blocker interference detected!
Wikia is a free-to-use site that makes money from advertising. We have a modified experience for viewers using ad blockers

Wikia is not accessible if you've made further modifications. Remove the custom ad blocker rule(s) and the page will load as expected.